Bio/Info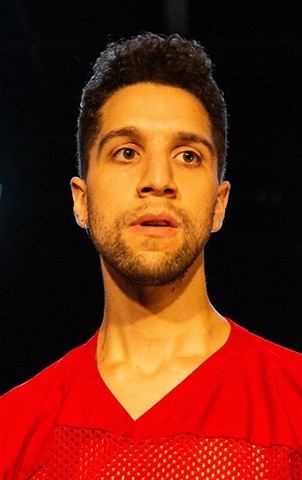 Kristopher Kareem Quarles Pourzal is a USA-based choreographer, performer, dramaturgical consultant, and teacher.
He is a 2020 Dance and Process participant (The Kitchen), a 2018 danceWEB scholarship recipient (Impulstanz International Dance Festival), a 2016-2018 Movement Research Artist-in-Residence, a 2016 Brooklyn Arts Exchange Space Grant recipient, and a 2014 Phoenix New Times "Big Brain Award" Finalist.
His solo performance work has been commissioned and/or presented by NYC venues such as GIBNEY, Danspace Project, Dixon Place, Roulette, Brooklyn Arts Exchange, Movement Research at the Judson Church, Center for Performance Research, and AUNTS.
Kristopher works and has worked for other artists including Simone Aughterlony, Catherine Galasso, K.J. Holmes, Mark Jeffery and Judd Morrissey, Aaron Landsman, In Kyung Lee, Abigail Levine, Jeff McMahon, Will Rawls, Jen Rosenblit, Eileen Standley, Annie Vigier & Franck Apertet (les gens d'Uterpan), and Ashley R.T. Yergens.
He has taught both movement and lecture courses at American University, Arizona State University, New York University, Western Wyoming Community College, and Whitman College.
Kristopher teaches workshops interrogating the politics and histories of improvisational movement practices, most recently for the Movement Research MELT series: movementresearch.org/event/12188.
Kristopher holds an MFA in Dance summa cum laude from Arizona State University and a BA in Dance (with minors in Music and Theatre) summa cum laude from James Madison University.
Currently, he is pursuing a PhD in Theatre and Performance Studies at University of Maryland, College Park.